This is a week that could have gone a very different way.
For Spring Break, my daughter and I had the privilege of traveling to England and France with a group of 43 students, parents and staff from her school. The students were part of her AP History and French classes.
This was a whirlwind trip with a packed itinerary. We were up early to see the sites and back to the hotel late at night.
By Sunday, we all felt the exhaustion. But as we were traveling many hours from London to Fresno by plane and bus, I felt that all-too-familiar, deep ache in my bones. I brushed it off, thinking it was jet lag.
Monday morning I woke up to several texts that multiple people in our group had tested positive for Covid. I took a test and, sure enough, I was positive for Covid too.
Oh, not this week, I thought. Maybe the busiest week of my year? Not the week of my book launch with multiple events and interviews. Not when I just got home from a 10-day trip and desperately wanted time with my younger girls and husband. Not the week before I was supposed to leave for a retreat in Cancun with the staff of (in)courage.
It was true.
While we were in Europe, and London in particular, we frequently heard the phrase "Mind the Gap" as we were moving in and out of public transportation and other times too.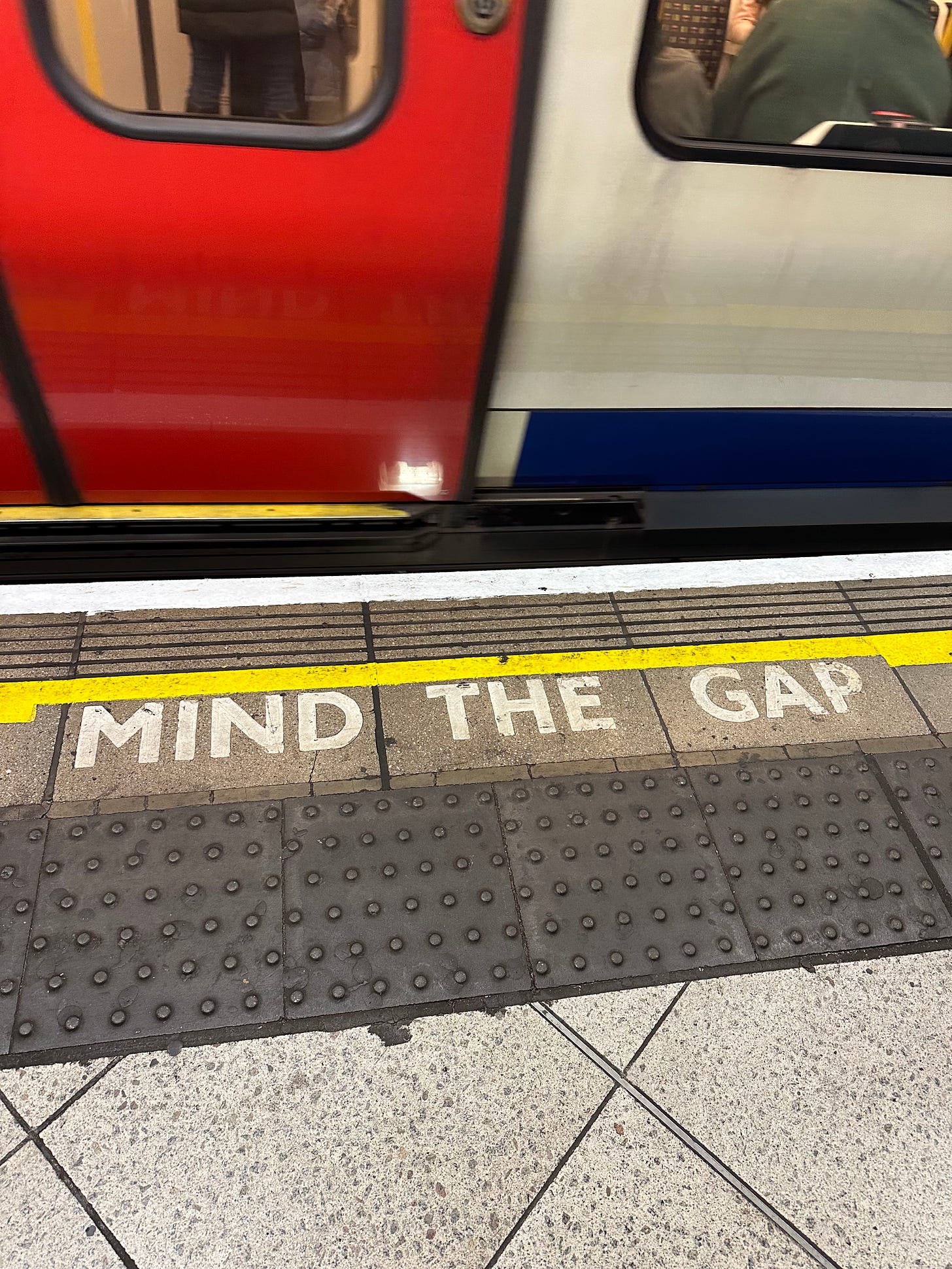 "Mind the gap" is an audible or visual warning phrase to passengers on the Tube to take caution while crossing the horizontal, and in some cases vertical, gap between the train doors and the station platform.
We were tooling around with 43 people for this school trip so it was important to "mind the gap." In our days abroad, I kept mulling over that phrase.
What does it mean to watch the gap, to be mindful of the space between, to face our lack?
On Monday, I called out to my prayer warriors to intercede for me. I stayed in bed for three days except for a few online interviews for which God sustained me. I tested negative by Wednesday and the symptoms subsided.
As I look back, I realize God was the one who minds the gap in my life. When I was sick and weary, He sent my mom to feed our family with homemade chicken soup and salad. Multiple friends volunteered to help drive my girls to practices and meets all over the city.
A woman whom I'd only met by phone volunteered to make a balloon arch for my book launch party. Another friend stepped up to help set up and decorate. My daughters served their mama, helping bake cookies, chop veggies, and do laundry.
My husband persevered through several more days of managing our home, grocery shopping and other errands, coaching our Track team, and his own work.
They were all filling in the gaps. They were stepping into the space of my lack.
I was surprised by stretches of rest and full restoration of my body in just a few short days. I know this was God's provision.
Saturday we celebrated with a book launch party in downtown Fresno at my friend's boutique. Fifty-some friends, family, and others from the community gathered.
We started with a scavenger hunt through the neighborhood hunting for God's glory. Then I got to read my book and share a bit about the creation of the book with the kids. And, of course, we had some glory-licious treats!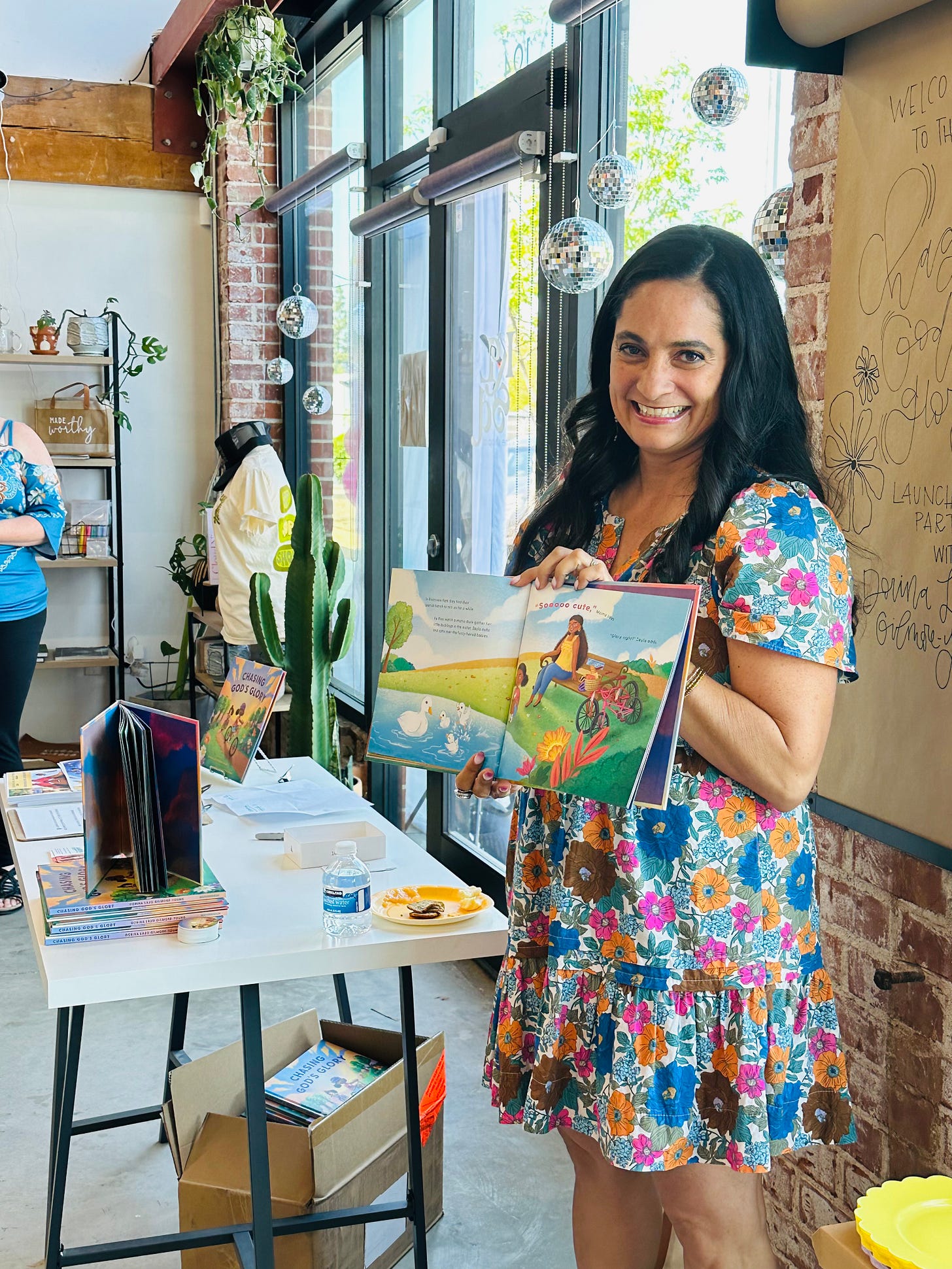 As I stood there before this cloud of witnesses, I couldn't help marveling at the ways God minds the gap for me every day in small but miraculous ways. Friend, he does that for you too! It doesn't mean everything always turns out peachy. It doesn't mean we always heal quickly or all details get covered in a perfect way.
It does mean we are never alone.
I'm clinging to these words written by Paul to the Corinthian church:
"But [Jesus] said to me, 'My grace is sufficient for you, for my power is made perfect in weakness.' Therefore I will boast all the more gladly of my weaknesses, so that the power of Christ may rest upon me" (2 Corinthians‬ ‭12‬:‭9‬, ‭ESV‬‬).
Maybe the gap is the very thing that brings us back to Him and helps us trust that He can provide in perfect and creative ways even when we are worn and weary.
That's actually what inspired my kids book! We are invited to look for God and his glory every day. If we lift our eyes, we just might see Him standing in the gap.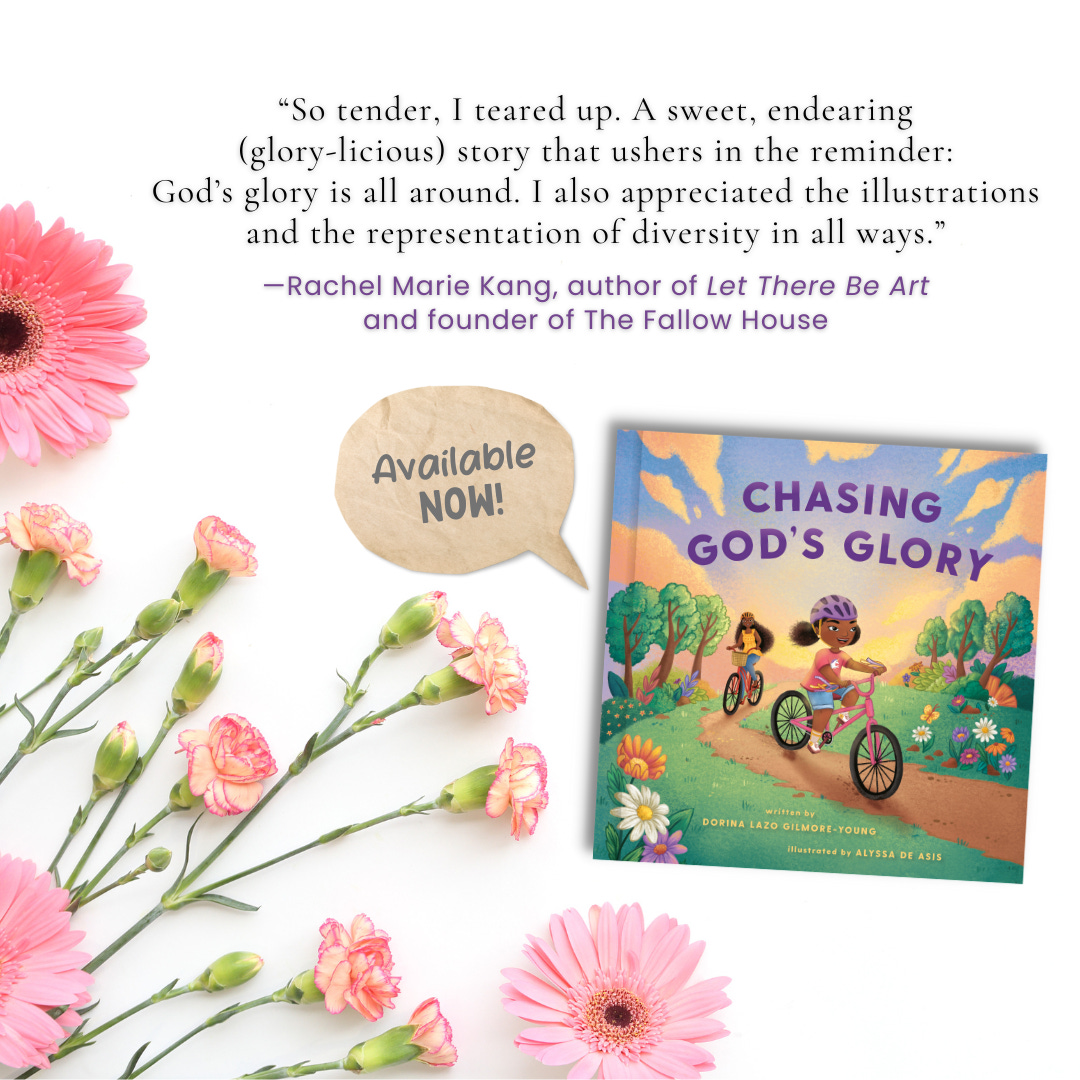 My new children's book, Chasing God's Glory, released on April 11! If you haven't already ordered a copy, hop over here! You can watch my virtual launch party here if you want to hear me read the book and listen to an interview with my editor, Bunmi Ishola, about the behind-the-scenes of publishing this baby.