On Thursday, I went for a run with my friend Marcy on the Clovis Trail in my neighborhood. I have been spending lots of hours in front of the computer trying to finish writing my new Bible study on Ruth. The manuscript is due to my publisher at the end of this month. (I welcome all your prayers for getting to the finish line!)
Getting outside always helps me to clear my head and call up fresh creativity. When I run, I always have my eyes lifted to see God's glory in the landscape, the sky, and even through conversations with friends.
These last several weeks the skies have been steely gray and mostly rainy, which feels very out of character for Central California at this time of year. I shared in this post about how we've had unprecedented rain throughout the state of California since January. In fact, we've had so much rain that the running tally this season exceeds the total amount of rain recorded in a normal year in some parts of the state.
Let's be clear: we desperately need rain.
California has been in a drought for years, but the rain is also wreaking havoc on the Golden State. Flooding has damaged roads, bridges, rivers, and trees. There aren't good systems in place to hold the water. Meanwhile, snow abounds in the mountains, which compounds the flooding.
On the trails where I run, I daily see the ramifications of these storms and floods. Our beautiful, tree-lined paths are water-logged and washed out in some parts. Mud and puddles last for days. Many of the trees are leaning dangerously to one side or have completely fallen over.
When I was running Thursday, I passed a tree that made me stop in my tracks. I called out to Marcy to wait for me, and then ran back to examine it. The tree was completely toppled, but strangely there was no evidence of roots. I investigated and there was no stump nearby either.
I looked at Marcy and said, "That'll preach."
Is it any surprise that a tree without roots would be among the first that fall down when a storm comes?
What I have learned about roots is they are vital to the tree. The roots allow nutrients from water to enter the tree and be transported to the branches and leaves. Tree roots anchor the tree in the soil, keeping it straight and stable. Roots serve as a storage for food and nutrients. Tree roots also take nutrients and chemicals from the soil and use them to produce what a tree needs for growth, development, and repair.
This is why a tree without roots can't withstand the storm.
That tree was preaching a sermon to me about the importance of being rooted. The roots of a tree grow underground. They are not seen by those outside or above ground. We might compare this to our private life with Christ. If we want strong roots, we need to grow a personal relationship with God. We become rooted when we pray, read our Bibles, worship in various forms. The important connection happens when no one else is watching.
Banning Liebscher writes in his book, Rooted, "You have to let Him build your root system in secret before He leads you into making a visible impact in the world."
As I kept running along the trail, I spotted another tree that had fallen. This tree had obvious roots protruding from her trunk. She was fully laying down on the ground, but she had tiny pink blooms all over her branches.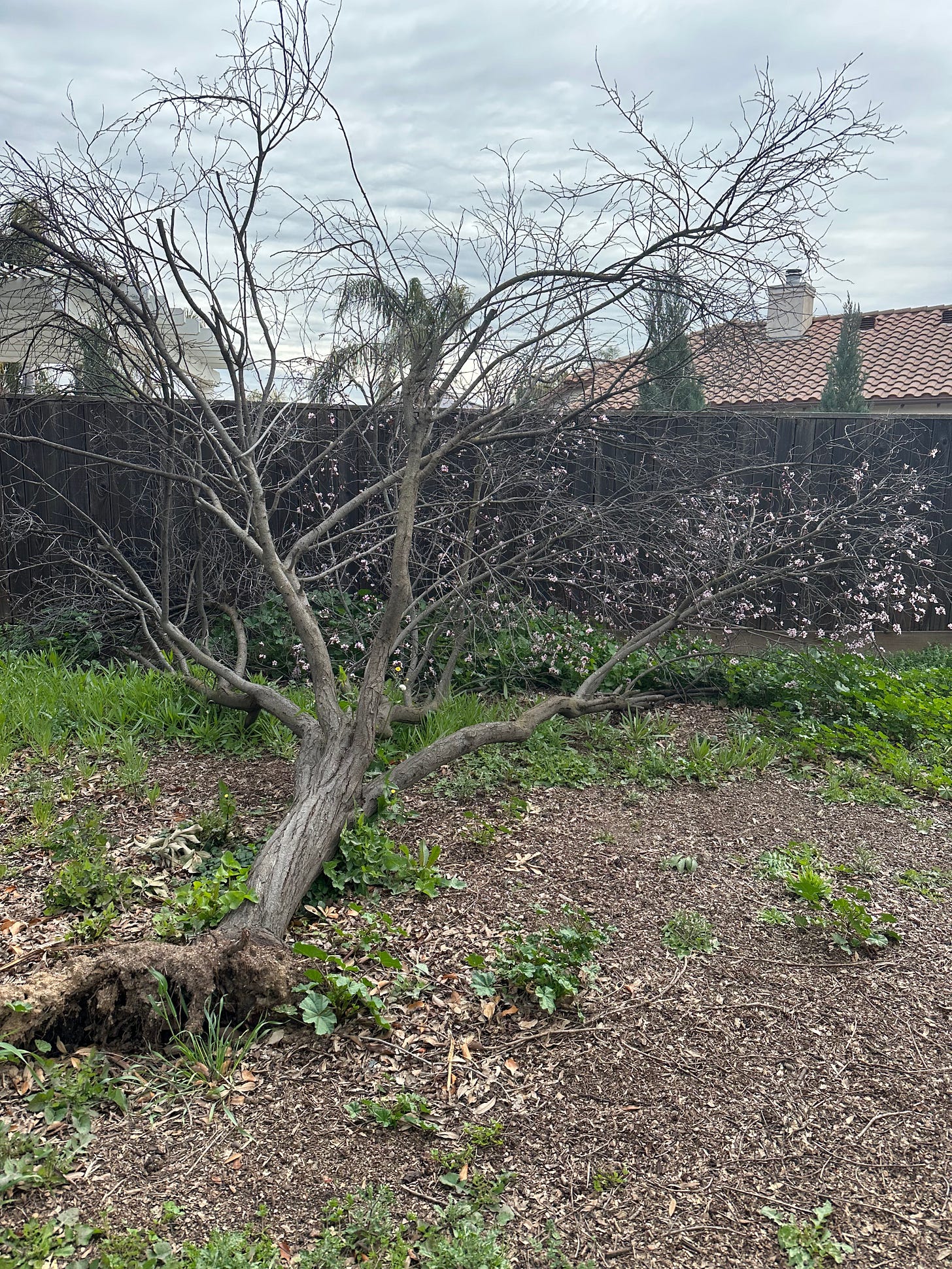 That's right, she was knocked down by the storm, but she was still blooming. Let that thought root in your heart. She had been uprooted, but there was still evidence of life on this tree.
I do believe it's possible for someone to bloom even when they are knocked down, even when they are navigating trials, even when they are grieving.
These two trees taught me one important truth: Storms reveal our roots.
We may think a tree looks strong and sturdy from above ground, but the rains and wind, the storms of life will reveal their true root system.
Jesus talked about this in the Parable of the Farmer Scattering Seed. He explained, "But the plants soon wilted under the hot sun, and since they didn't have deep roots, they died." (Matthew 13:6, NLT).
Friend, let's remember the call to stay rooted in Christ. Once the storm comes, it's too late to begin. The goal is to stay rooted in His love and abide in His presence so we can stand strong through all kinds of weather.
We've got rain storms predicted for the next week in our area. I'm thinking about the ways I can stay rooted.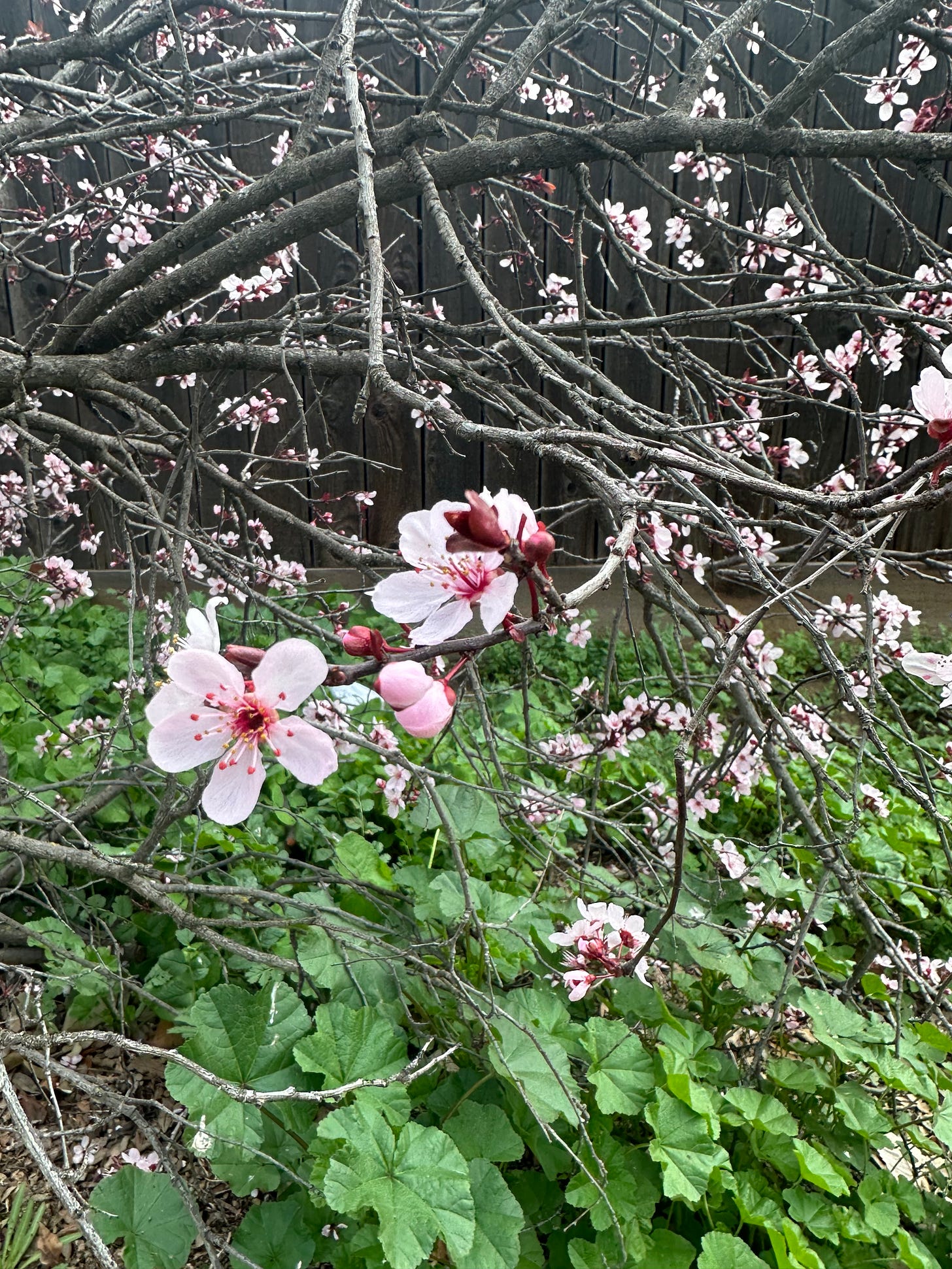 I'd love to hear about some of the ways you are staying rooted in this season! Do you have spiritual practices or rhythms that help you?
*This post was originally published on (in)courage.